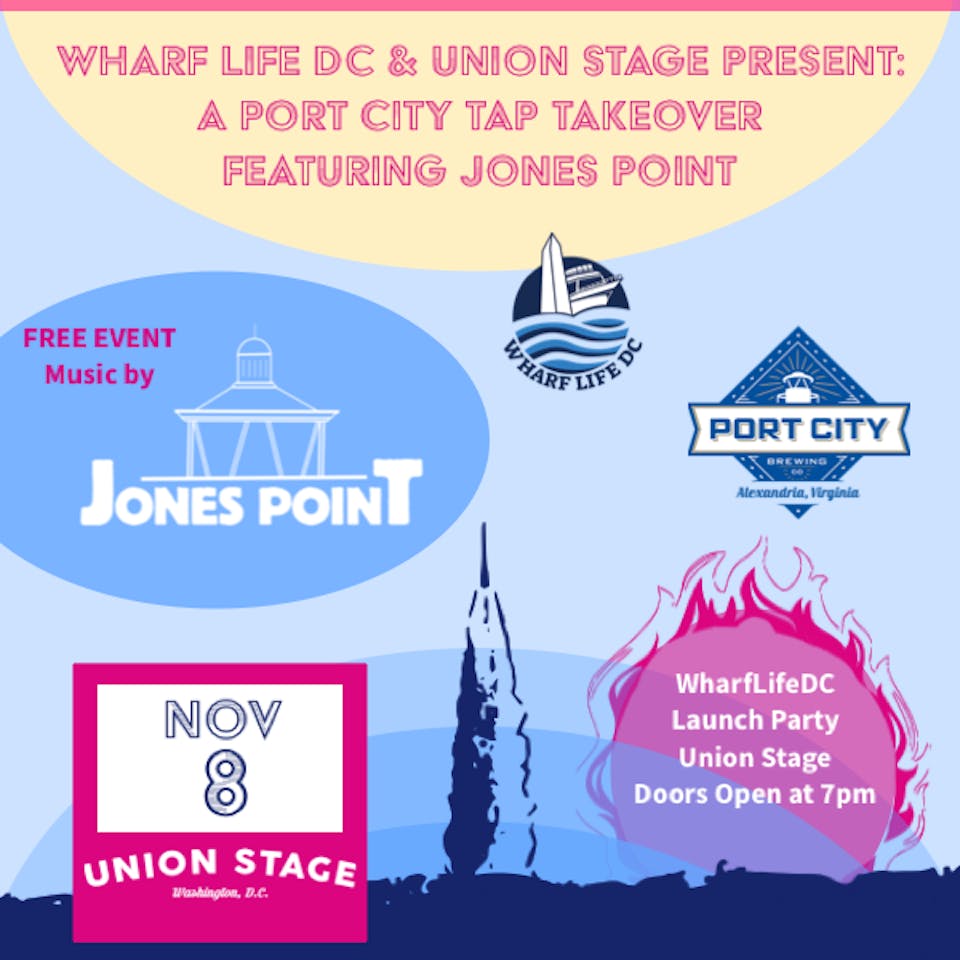 Presented by Wharf Life DC & Union Stage
Jones Point
Union Stage
Free Music with Port City Brewing Tap Takeover!
Jones Point
From its roots as a colonial seaport, Alexandria, Virginia has been a melting pot of cultures and music. Jones Point fuses this broad cross-section of American musical influences into an organic, high-energy sound that ranges from bluegrass to Go-Go, with many musical genres in between. With the care of artisan craftsmen, Jones Point delivers original arrangements and well-rehearsed three-part harmonies.
Jones Point (JP) is named after the National Park that extends into the Potomac River at the southeastern tip of the City of Alexandria. On the riverbank sits the last remaining riverine lighthouse in the Commonwealth of Virginia. During the 19th-century, the Jones Point lighthouse shined its light on locals and visitors alike as they approached the city.
Jones Point was started by experienced musicians — all Alexandria natives — with eclectic musical influences. The style of Americana they deliver at music venues and private parties has entertained long-time friends and newcomers with musical alchemy that, on occasion, has approached the limits of local noise ordinances.
Wharf Life
Wharf Life DC is a news and information source exclusively about where to eat, drink, play and live at the District Wharf. They live on boats at the Wharf Gangplank marina and have been there since before there was a District Wharf. They know the bartenders, servers, and shop owners better than anyone.

There is no other better source of information about the Wharf and what to do than Wharf Life DC. Each week Wharf Life DC provides restaurant reviews, an update of live music and free events at the Wharf, and even provides a glimpse of what it's like to live on a boat! They also have ticket giveaways and host special events.

Connect with Wharf Life DC at www.WharfLifeDC.com and you can follow Wharf Life DC on Facebook Instagram and Twitter.

Venue Information:
Union Stage
740 Water Street SW
Washington, DC, 20024