Songbyrd & Union Stage Present
Yoke Lore
Future Generations
Union Stage
Yoke Lore + Future Generations / Union Stage / Washington, DC
• Full dinner and drink menu available
• The Premier Plus section is a raised area with reserved seats and tables. There is a dedicated server for faster service
Yoke Lore
"A 'yoke' is something that holds things together. 'Lore' means a set of stories or a collection of ideas about an event, time, or culture," explains Adrian Galvin, when asked about the meaning behind his musical moniker Yoke Lore. New York indie pop project Yoke Lore is the solo musical venture of Adrian Galvin, previously of Yellerkin and Walk the Moon. Yoke Lore layers the harmonies of Panda Bear, the soulful beats of M83, and the modern pop of Blackbird to tell "the stories of how we are bound." Galvin's songs combine echoing waves of banjo, vocals, and percussion to create arresting pop music with tactile candor and conviction. Galvin continues, "I want to tell stories about how memories, relationships, apprehensions, and big dreams hold us together. I think that exploring universal experiences both emotional and spiritual are best conveyed through the potency of personal stories. And music wields a power to render the very personal, epic."
After putting out three acclaimed EPs which gained him a loyal following -- Far Shore (2016), Goodpain (2017), and Absolutes (2018) -- 2019's Meditations strips several of Galvin's familiar songs to their core by trading the usual electronic elements for arrangements of piano, horns, and strings. "In re-interpreting it, I wanted to clear out everything but the song itself, so that people to whom it means something can glean a more refined experience of the song itself. Clear out the clutter, unburden yourself," Galvin explains of "Beige (unburdened)," the reimagined version of his song "Beige" from the Goodpain EP. In addition to these re-interpretations, listeners will also find two new studio songs on the new Meditations EP.
2017, the year the Goodpain EP was released, was a turning point for Yoke Lore. His stand-out single "Goodpain" roused fans old and new -- including Spotify, who invited Galvin to their New York City studio to record an acoustic version of the track, as well as two covers for his Spotify Singles: "Last Christmas" by Wham! and "Truly Madly Deeply" by Savage Garden. His holiday song graced Spotify's Holiday Singles playlist alongside covers by Demi Lovato, Sam Smith, and Miley Cyrus. Yoke Lore also found an unexpected new fan in popstar Taylor Swift, who added his cover of "Truly Madly Deeply" to her "Songs Taylor Loves" Spotify playlist in 2018.
Three years of non-stop touring (supporting acts like Bastille, LP, Frenship, Overcoats, The Pains of Being Pure at Heart, and Aquilo) and playing festivals worldwide (SXSW, The Great Escape, Field Trip, Billboard Hot 100) led to Yoke Lore's first US headline tours, selling out shows all over the country. In 2019, Yoke Lore will make appearances at BottleRock Napa Valley and Firefly Festival, following an east coast headline run and some European dates as well.
The new acoustic EP, Meditations, is due out June 2019.
Future Generations
The second full-length from Future Generations, Landscape emerged from the kind of playful creativity only possible among the closest collaborators. Five friends who all live together in Brooklyn, Future Generations brought Landscape to life by balancing their pop-minded songcraft with bursts of free-form experimentation: recording guitar riffs from the receiving end of a phone call, messing with a vintage synthesizer called the Fun Machine, building percussion tracks by sampling a batch of drum-circle recordings. So while the album's abundance of hooky melodies makes each song immediately catchy, Landscape unfolds with an intricacy of detail that reveals more nuance and depth with every new listen.
The follow-up to their 2016 self-titled LP, Landscape finds Future Generations matching that sonic exploration with a greater emotional intensity. "The title partly came from ending the first significant relationship of my life, and with the band's move to Brooklyn, we were all put into this world we'd never experienced -- living on our own and navigating the landscape of being in New York City," the band's singer Eddie Gore explains.
Produced by Justin Gerrish (Vampire Weekend, Hamilton Leithauser), Landscape is also the first Future Generations release to feature their full lineup which aside from Gore includes Mike Sansevere (synthesizer, guitar, percussion), Eric Grossman (guitar), Devon Sheridan (bass), and Dylan Wells (percussion) as the latter two joined the band a few years after its' formation. Throughout the album, the band proves the power of their chemistry in songs like lead single "All the Same," a track that builds a brilliant tension between its nostalgia-soaked synth lines and lyrics that perfectly channel pre-breakup disillusionment. A bravely honest look at longing for connection -- and rejecting the emptiness of one-night stands -- "Suddenly" draws inspiration from hip-hop in its sampled beats, an element offset by the song's shimmering synth and acoustic guitar. That hip-hop influence also informs the hypnotic rhythms of "Out Loud," while "Landscape" mines its frenzied urgency from the unchecked fury of punk. And on "I Never Knew I Was Lonely," Future Generations deliver one of the album's most chilling moments, shifting between stripped-bare vocals and brutal guitar work to beautifully unsettling effect.
From song to song, Landscape shows the sophisticated musicality that Future Generations have honed since Gore, Sansevere, and Grossman first crossed paths at Fordham.
As a trio, they created an EP that included their breakthrough single "Stars" which helped land them a deal with Frenchkiss Records before they had even finished school. With the eventual addition of Sheridan (whom Gore invited to join the band while waiting in line at a school dance) and Wells (a lucky Craigslist find), Future Generations felt complete. The band moved in together right after graduating, and soon finished up work on their full-length debut.
Once in Brooklyn, Future Generations quickly settled into post-college life, splitting their time between music and their day jobs. "Some people might think, 'Don't you guys get sick of each other?' But even though we live together and work on music together and tour together, I don't ever feel like I've had too much of anybody," says Gore. As he notes, the Future Generations home life is always kept colorful by the band members' varying obsessions. "Eric loves good food, he's always cooking these very intricate things for us," says Gore. As for the others, "Devon is always illegally streaming NBA games and Dylan is very talented when it comes to betting on horse races."
Above all, Future Generations are unified by a passion for endless discovery in every element of the artistic process. "Making this album was the most creative time we'd ever experienced together," says Gore. "I remember after the ninth day of recording, we were all walking to the subway together to go home, and we just stopped and looked at each other like, 'This is crazy, what's happening here.' It was this euphoric experience; the energy in the studio was completely palpable." In reflecting on their chosen name, Gore points to the band's mission of transmitting that energy to others. "We're all very optimistic people who are really grateful to get to do what we love together," he says. "Our hope is for future generations to also have that -- to get to do what they love, and be with who they love. It's a little idealistic, but I think that's what really encapsulates the whole spirit of the band."
Eddie Gore (vocals, keys, guitar)
Mike Sansevere (synthesizer, guitar, percussion)
Eric Grossman (guitar)
Devon Sheridan (bass)
Dylan Wells (percussion)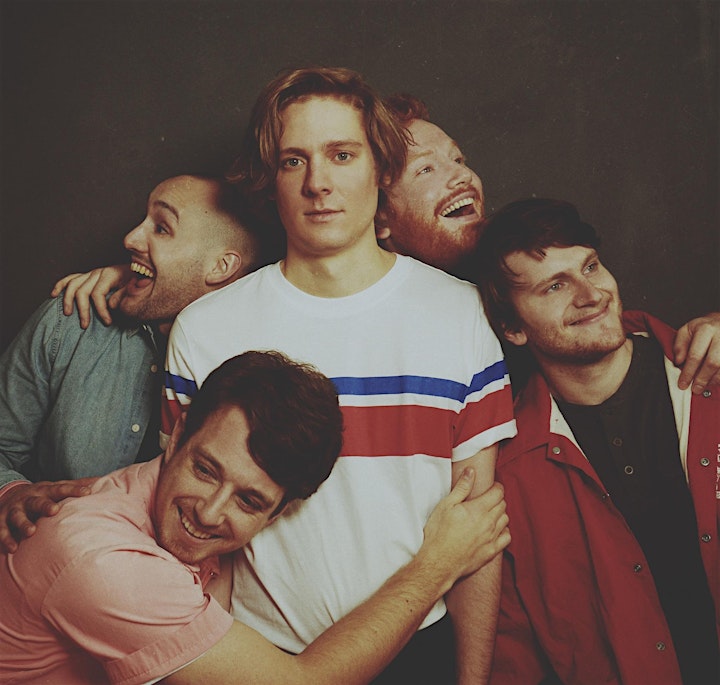 Venue Information:
Union Stage
740 Water Street SW
Washington, DC, 20024